Last week, our Quality Matters blog took a speculative look towards the future of quality care in cardiology, but no look forward would be truly complete without a retrospective look back at the momentous events of the past eight months and a consideration of the COVID-19 impact on care and quality in health care. In part one of this blog, we examined how organizations met the challenges of the COVID-19 pandemic, as well as quality care issues highlighted by the realities of this disease—from inequities to provider burnout and, of course, the effects of the disease on cardiovascular function. In this second part, we take a look at big picture lessons from COVID-19 and look to the future of cardiovascular excellence in what is not simply our 'new normal' but rather our transformational 'new existence.'
This blog is continued from part one, here.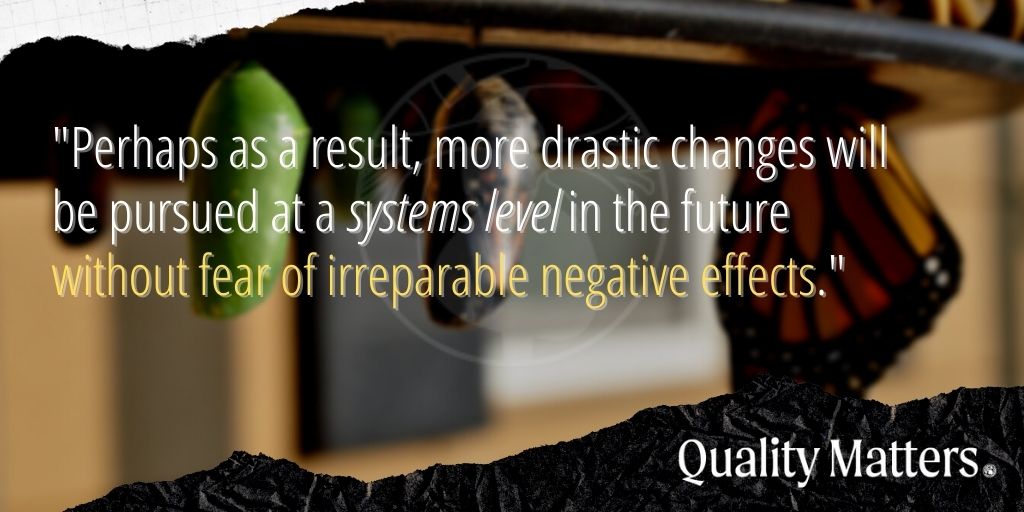 Big Picture Lessons from COVID-19
As professionals across the healthcare landscape have reacted and responded to the Covid-19 pandemic, many inherent truths about the nature of the healthcare workforce have been revealed. The flexibility of our healthcare system has been put on display as telemedicine has become essential for the treatment of patients during the pandemic. We have moved forward rapidly as regards the incorporation of telehealth modalities into the day-to-day operations at organizations. This has prompted the Current Procedural Terminology (CPT) surrounding telehealth services covered by CMS to be expanded in recent months.
Many believe that some of these changes will become permanent as we move beyond the pandemic, for example, removing the "originating site" rule that disallowed reimbursement for care delivered to patient homes in rural areas.
Another clear lesson about the nature of our healthcare systems overall is that they are resilient, learning entities. The quickness with which healthcare practices were discovered, adjusted, and adopted across the care-delivering landscape is inspirational. How quickly changes were put in place without unmanageable losses being inflicted on the healthcare system demonstrates our willingness and ability to adapt in a moment of necessity. Perhaps as a result, more drastic changes will be pursued at a systems level in the future without fear of irreparable negative effects.
Further, both moments of efficiency and waste have been observed throughout the pandemic. There are many instances where Covid-19 has resulted in delayed care for nonessential procedures without having a detrimental effect on patient health. This suggests that nonessential procedures will be looked at with more scrutiny in the future, and reveals how the "sickness care" incentives built into our current system may reduce efficiency in the long run. Hopefully, moving forward, these inefficiencies will be closely examined and ultimately eliminated, which will improve access, quality, and cost of care for both patients and providers.
Closing Thoughts on Our Future
With challenges come solutions, new perspectives, and many, many lessons. Certainly, the challenges of the past seven months during the Covid-19 pandemic have had no shortage of all of the above. A critical task in the face of challenges, however, is not only to work towards overcoming them, but more precisely to measure how we work to overcome them. This requires us to engage in action-research, which involves the systematic inquiry of practice in order to improve the impact of necessary changes in a given context.
In other words, while we have to change organizational systems and processes to meet the obstacles in our path, we must also measure the mechanisms and impact of those changes in clear and precise terms. The critical reflection inherent in this complex task is really where the lessons reside.
As we move forward with the pandemic, documenting our actions and measuring the results thereof will be more important than ever. There is little use in changing our actions if we cannot account for the tangible differences those changes make, and share the most effective practices as widely as possible. Innovation, here, finds an essential bedfellow in communication. If we continue to communicate about our clinical insights, new approaches, and the concurrent results, the Covid-19 pandemic will be brought to an end sooner than if we pursue success in a vacuum.
The Accreditation for Cardiovascular Excellence has seen time and time again what facilitating this kind of supportive, inter-organizational communication can do for the quality of care. And without a doubt, quality improvement is a goal grounded in communication as much as it is grounded in any clinical, administrative, or regulatory approach.