Accreditation for Cardiovascular Excellence provides premier invasive cardiology accreditation that makes a measurable difference in outcomes for your organization. It's what sets us apart from other accreditation providers—the ACE Difference.
What's the difference exactly? A foundation in independence (accreditation is the core of our mission and our sole source of income), dedication to excellence, and focus on supportive program development. We aim to minimize variability in processes directly tied to outcomes, evolve the data that mold our standards, and develop the best cardiovascular programs possible.
We set the standard in invasive cardiology accreditation. Explore our accreditation programs, here. Or keep reading to learn more about what sets ACE apart:
Truly Independent Third-Party Invasive Cardiology Accreditation
Accreditation for Cardiovascular Excellence is an independent organization, so membership politics or conflicting business models don't influence our processes or our standards. We maintain independence to serve the best interests of our accredited partner organizations and to preserve the integrity of our accreditation process and the merit of the status of accreditation.
Our volunteer board of directors have a wealth of practice experience, which allows them to truly understand the perspectives of professionals across the organizations with whom we work, and propose innovative solutions to accreditation obstacles and practice hurdles which account for both the practice realities and the long-term goals of care-delivering institutions. They've been in your shoes. They know this work. Most importantly, they share your mission.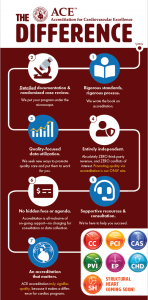 Uniquely Rigorous Invasive Cardiology Accreditation with Statistically Significant, Randomized Case Reviews
We understand how important the insight from case reviews can be, so unlike other providers, we don't allow the cherry-picking of cases. We review a statistically significant and randomized sample of cases for each operator, so we can extensively and intimately evaluate your program, processes and people.
The more we know about the unique characteristics of your operations, the better we can understand what you need and help develop what you have.
No

Third-Party Revenue,

No

Conflicts of Interest
Third-party revenue presents the risk of creating conflicts of interest or prescriptive, inflexible standards and process decisions. Or, at the other end, they minimize the value and impact of standards as the process becomes a less meaningful stamp of approval for checking off boxes. This check-box approach does not account for consideration of an organization's unique culture or the value of sustaining quality which is essential in an individualized/supportive evaluation.
ACE's business model is built around providing our accredited partners with value, not selling them on sponsored products, data registries, or consulting upcharges. Bottom-line, we don't let outside influences compromise our position as an independent third-party, and the cost of accreditation is a true reflection of the concentration of our efforts to support your program's excellence.
Supportive Resources and Consultation at No Extra Cost
Along those same lines, we don't upcharge for consultation and support—our accreditation is truly a supportive one, designed not to be punitive but to help your programs meet rigorous, outstanding quality standards based on universally recognized and supported consensus guidelines.
We want your program to be its best. But we don't allow our high standards to create potentially punitive costs—that is why all of our resources and consultations throughout the accreditation and programs development process are included in the cost of accreditation. The partnerships we forge come with our complete dedication to making cardiovascular programs their best.
Independent Data Collection and Original Science
With the data we've collected throughout years of accrediting programs, along with the information we encounter every day, ACE has the most advanced understanding of processes resulting in the highest quality outcomes in the invasive cardiology accreditation landscape.
We consistently use our data to develop new insight and more valuable, impactful resources for our accredited sites. We aim to not only incorporate the latest science into our quality standards but to shape that science. Not only does this help us understand how to optimize our programs today, but also how to support them for continued excellence into the future.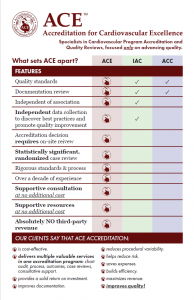 The ACE difference is what we can do for you and your program.
While our goal is to set and push rigorous program standards in invasive cardiology accreditation, we also understand that each organization has unique needs. We are here to help you flexibly and sustainably meet those needs and to exceed expectations.
Beyond the bullet points, we believe what makes ACE different is our dedication to you and your program. We don't want to simply give you a stamp of approval and send you on your way. We want to be partners in setting a high quality standard for invasive cardiology programs.
At the end of the day, our involvement with our partner institutions raises the standard of care across the cardiovascular professional space. This "big picture" impact is what drives us, and supporting you is how we will see that impact ultimately achieved.