Accreditation for Cardiovascular Excellence submitted ongoing, original research into the vital efficacy, impact and value of accreditation in cardiology to several conferences since the start of the Covid-19 pandemic. Recently, we have started to hear back from conferences with the exciting news that our work has been accepted for presentation—we hope you'll be able to join us!
Below is a list of ACE's recent conference acceptances, the topics/abstracts on which we will be presenting, and more information about our presentation content and where you can find more information about the conferences in which ACE will be represented.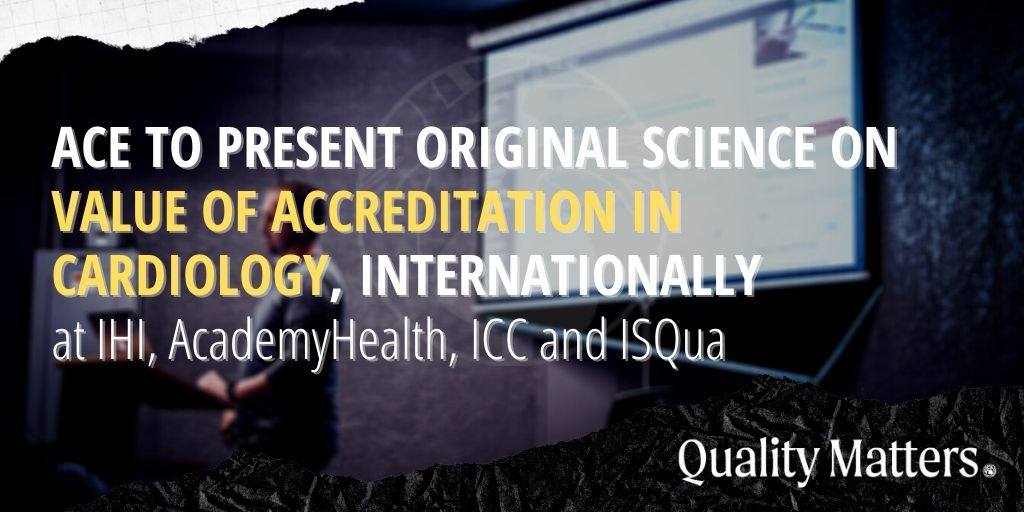 The Accreditation Process Drives Rapid Quality Improvement – Continued Review is Critical
The Institute for Healthcare Improvement Scientific Symposium – December 7, 2020
This presentation will provide an overview of data from ACE's accreditation and re-accreditation reports from the over-100 organizations that have been accredited since 2010. The data collected and analyzed demonstrate the value of accreditation in cardiology and the importance of ongoing internal quality improvement reviews and third-party accreditation processes for the maintenance of quality systems and outcomes.
In short, this presentation compared accreditation standards achievement by organizations between their initial and second accreditations with ACE. Those organizations maintaining a relationship with ACE, were more likely to achieve success across numerous accreditation standards. Further, it was noted by investigators that administrative changes were more easily facilitated and maintained than changes to physician protocols & behavior.
This is an exciting insight, as it bears out in ACE's data both the importance of continued relationships with third party accreditors for the maintenance of quality care, and also makes clear that physician behavior and processes are the area demanding a greater concerted effort from organizational staff and leadership engaged in change-processes to improve quality. We are excited to share our work with you!
The abstract will also be submitted to BMJ Open Quality for publication.
Lessons from Accreditation Action Plans: Areas for Quality Improvement in the Cardiac Cath Lab
AcademyHealth – Conference on the Science of Dissemination and Implementation in Health – December 12 – 15, 2020
ACE's poster presentation at AcademyHealth's dissemination and implementation conference focuses on how ACE-accredited institutions have contested the necessary change-processes inherent in seeking accreditation. More specifically, it examines the systems-level interventions that ACE accredited hospitals have undertaken to achieve higher quality practice outcomes in the clinical care setting.
As we know that information-sharing and open communication is never more important than during a time of crisis, the timing of this presentation/conference is prescient given the ongoing Covid-19 pandemic.
Our hope is that by sharing some of the new protocols ACE-accredited institutions have taken on in order to meet accreditation standards, those who attend will be able to absorb and improve on these quality approaches of re-vamped internal peer review, methods of physician engagement, and administrative planning and problem solving for the future.
You can read bit more on this topic in one of our latest blogs, "11 Common Cath Lab Mistakes."
Accrediting for Procedures Yields Big Rewards
International Society for Quality in Health Care (ISQua) – Emotion, Inspiration, and Creativity: Pathways to Global Health Quality – Florence, Italy – July 8 – July 11, 2021
We are particularly excited to dicsuss the value of accreditation in cardiology to an international audience at the International Society for Quality in Health Care's July 2021 conference in Italy.
For ISQua's 2021 conference, ACE's Chief Medical Officer, Bonnie Weiner, MD, MPH, MSCAI, FACC will be participating in a presentation panel with two other presenters for a one-hour session. All three presenters are focusing on regulation, evaluation, standards, and accreditation. The three presentations will be coordinated in terms of content so that attendees can garner as wide a perspective as possible regarding the evaluation and maintenance of quality in healthcare from across myriad perspectives.
For ACE's session in particular, we will focus on how accreditation yields flexibility in the problem-solving which organizational leadership are required to pursue. Namely, we will focus on how standards are interpretive tools, and the many routes to any one "quality destination."
The Journey to Accreditation: Everyone Matters
12th International Congress of Cardiology (ICC) – Lisbon, Portugal – July 20 – 22, 2021
Through the Accreditation for Cardiovascular Excellence accreditation process, we have had an opportunity to review many facilities' work in catheter-based procedures. Our review process includes a crucial onsite process which has provided insight into systems and processes that support the highest quality outcomes. We will share the quantitative and qualitative data of high performing labs. We will provide analysis and insight regarding what sets them apart in their adherence to endorsed standards.