In a March 10 earnings call, executive chairman of Surgery Partners, Inc., a fast-growing company offering surgical services via more than 180 ambulatory surgery centers (ASCs) in 30 states, Wayne DeVeydt said musculoskeletal surgery in ASCs is "exploding," and with medicare's approval to reimburse ASCs for percutaneous coronary interventions (PCI), the cardio space is their next target for growth. On the other hand, Greg J. Dehmer, MD argues we should "proceed with caution." We a look at the outlook on cardio ASC growth, its opportunities and its challenges for physicians, and what it means for quality PCI outcomes.
Our quality matters blog has touched on ASCs, before, but Accreditation for Cardiovascular Excellence more recently released first-of-their-kind quality standards for cardiac catheterization and percutaneous coronary intervention in ambulatory environments as part of our 2020 Cath/PCI standards update in September.
Insight into cardio ASC growth from Surgery Partners' earnings call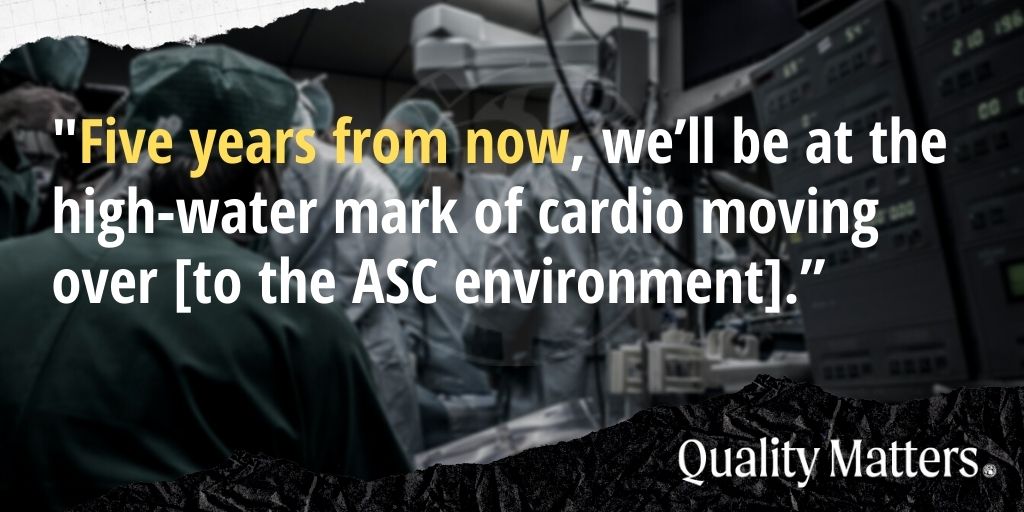 It can be difficult to cut through the hype around ASCs, especially as there's a lot of money involved—a simple google search for ASC growth outlook will land you seemingly endless reports from consulting firms catering to big money investors. ASCs being in the realm of public finance produces a lot of noise, but also gives us significant insight into the market, its growth prospects, and what it means for physicians.
In particular, we get a great deal of information from the public reporting of Surgery Partners, Inc., which is both a publicly traded company and its business model is entirely focused on ASCs, (as opposed to a company like Tenet which has a significant stake in ASCs, but they do not currently account for a majority of Tenet's revenue).
And on their Q4 earnings conference call on March 10, Surgery Partners' executive chairman Wayne DeVeydt spoke specifically to the company's targeted timeline for significant cardio ASC growth, saying, "Five years from now, we'll be at the high-water mark of cardio moving over [to the ASC environment]."
"The [musculoskeletal surgery] kind of playbook that we ran would be the same playbook that we run for cardio," said DeVeyst in response to analyst questions about the push into cardiovascular care. "We actually think the same dynamic will be happening with cardio, probably in the next two to three years is where I would position it."
"It is a new space with PCIs getting approved just this year from a Medicare standpoint, there is a lot of interest," said Surgery Partners' CEO Eric Evans. "So much of cardiology is Medicare… this really has opened the door for us."
"Specifically, we estimate that there is over $60 billion of cases that will shift from inpatient to outpatient over the next several years," said Evans in prepared statements. "And, we estimate that over 60% of those procedures are in musculoskeletal and cardiology."
The Medicare Payment Advisory Commission (MedPAC) 2021 report released March 15 highlighted 226 new Medicare-certified ASCs opened in the United States in 2019, following 230 new ASCs opening in 2018. These data lag behind the impact of COVID-19, which may further influence growth in the ambulatory space.
"Our freestanding, purpose-built facilities are more than ever before a safe haven for patients and providers who were seeking surgical care," said DeVeydt. "The transition of procedures out of traditional acute care inpatient settings continues to accelerate."
Physician ownership is a major benefit of the ambulatory environment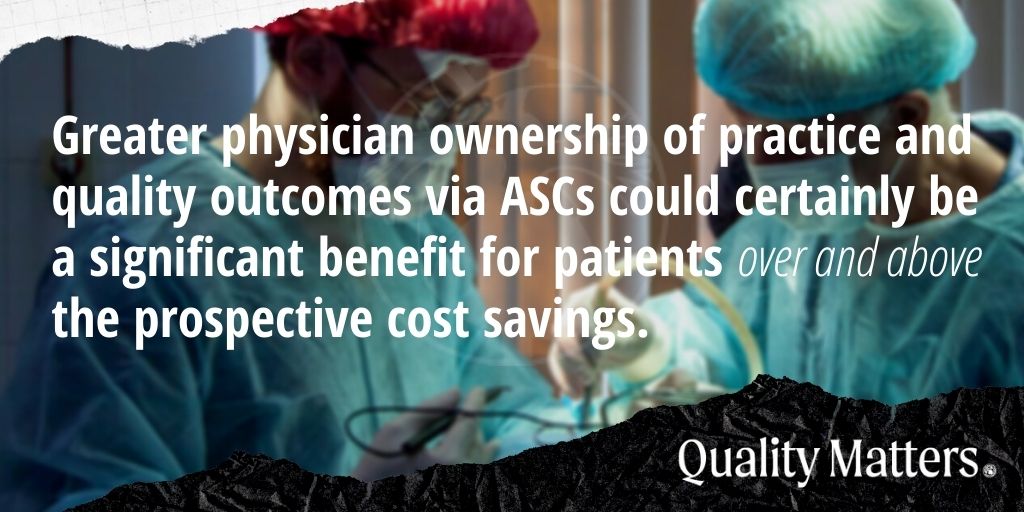 There are plenty of reasons to be excited about the growth in ASCs, not the least of which is significant cost-savings in the ambulatory environment. "An analysis of actual Medicare claims data released in 2020… shows that ASCs reduced Medicare costs by $28.7 billion from 2011 through 2018 and projects that ASCs can be expected to reduce Medicare costs by an additional $73.4 billion from 2019 to 2028," says the Ambulatory Surgery Center Association (ASCA).
Likely more importantly to physicians is that in an increasingly consolidated healthcare environment, ambulatory care may provide physicians with unique opportunities for greater ownership over their practices, their success, and the quality of their care. A 2017 ASCA survey suggested that 64 percent of ASCs were entirely physician-owned, and in another 29 percent, physicians were at least partners with corporate or hospital organizations.
Even in the case of Surgery Partners, physician ownership is a major selling point. "From a physician recruitment standpoint—you've got a number of physicians across the country, cardiologists who now have an opportunity to do something, to potentially take ownership, to get more involved in an ambulatory facility," said Evans, CEO of Surgery Partners. "We're seeing a lot of interest in that."
The ASCA also sings the praises of physician ownership, arguing that it results in greater convenience and accountability that ultimately translates to higher quality care. "This advanced model of service enhances the delivery of care by allowing physician operators to: focus exclusively on a small number of procedures in a single setting; intensify quality control processes since ASCs rely on a smaller amount of space and fewer operating rooms than most hospitals; and… allow physicians to personally guide innovative strategies for governance, leadership and quality initiatives," reads their website.
We know from experience in supportive accreditation that physician buy-in to and leadership of quality initiatives is crucial for improving quality, systemically. Greater physician ownership of practice and quality outcomes via ASCs could certainly be a significant benefit for patients over and above the prospective cost savings.
Unique challenges in the ASC environment and the need for third-party review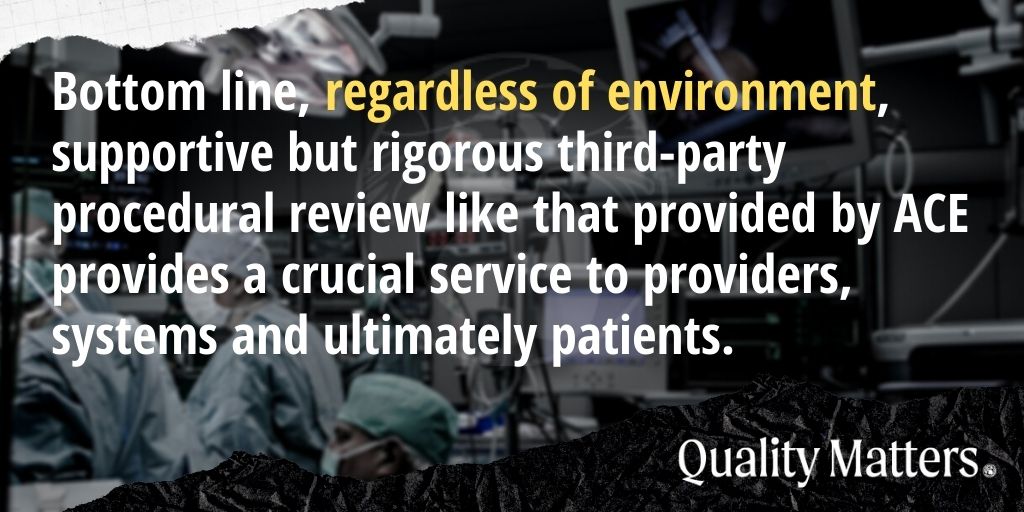 Of course, we cannot overlook the reality that potential complications in an ambulatory environment may be more dangerous than in a hospital environment as transferring is required, and the fact that some lapses in quality are a result of poor physician judgment—a reality that may be improved but not necessarily eliminated by increased accountability of physician ownership.
Indeed, from another perspective, greater physician ownership, systemically, might be interpreted as a decentralization or diffusion of accountability that could allow bad actors to have an outsized negative impact on patients with less organizational oversight.
The data show concerns about PCI in ASCs are not entirely unfounded. A study of PCI in ASC settings published November 9 in JACC: Cardiovascular Interventions found significantly increased bleeding complications in propensity-matched analysis (OR: 2.49; 95% CI: 1.25 to 4.95; p = 0.009). "Commercially insured patients undergoing ASC PCI were less likely to undergo fractional flow reserve testing and had higher odds of bleeding complications," than patients treated in a hospital outpatient department, concludes the study authors.
In an editorial accompanying this study, Gregory J. Dehmer, MD argued, "this study should be a warning, not necessarily to stop or change course, but rather to proceed with caution." Because of its largely unproven nature, especially in the Medicare population, "Performing PCI in an ASC environment requires strict adherence to regulatory requirements and operational recommendations," he wrote.
"ASCs do not have the structure and support associated with a hospital," says Peggy McElgunn, Esq., Chief Operations Officer of ACE, on the release of updated Cath/PCI standards with guidance for ASCs. "They are going to need the framework that standards provide."
Bottom line, regardless of environment, supportive but rigorous third-party procedural review like that provided by Accreditation for Cardiovascular Excellence provides a crucial service to providers, systems and ultimately patients in providing third-party validation of quality along with helping organizations of all sizes, makeups and environments, with structured quality assurance guidance and requirements to ensure optimal outcomes now and in the future.
The opportunities of significant cardio ASC growth do not come without risk, but ACE review provides even more crucial assurances in uncertain environment. In a follow-up blog, we'll take a deeper look at counter-perspectives around the possible growth in PCI in the ambulatory setting.