Maybe all of us would prefer just to get through the next few months—or just tomorrow—without living in fear of the next global pandemic like COVID-19. But one of the ways that this disease has changed the world is in understanding that threat and being prepared for it. At Accreditation for Cardiovascular Excellence, we're interested in how accreditation—or third-party quality review, in general—can help organizations achieve excellence in the best of times and also stay prepared for the worst. Read on to learn how we're going about preparing for the next pandemic.
Striving for Excellence while Preparing for the Next Pandemic with Accreditation
Currently, as the Covid-19 pandemic is straining health systems to the limit, it may seem like an inopportune time to plan for the future, and preparing for the next pandemic may be the last thing on everyone's to-do list. But in reality, though the problems of the current moment may feel overwhelming, there is no better time than a crisis to consider organizational transformation and plan for the years ahead.
While crises are immense tests of our ability, capacity, and resilience, they are also outstanding opportunities to learn. By taking the time to reflect amidst crises – perhaps more so than during periods where we are going about business-as-usual – we can collect and analyze real-time information about what works, what doesn't, and the gaps we need to fill in our delivery of care.
Accreditation provides institutional support for this type of continuous learning, and this blog explores how, whether in times of turmoil or tranquility, accreditation supports ongoing quality improvement efforts while also ensuring that organizations remained prepared for the unexpected.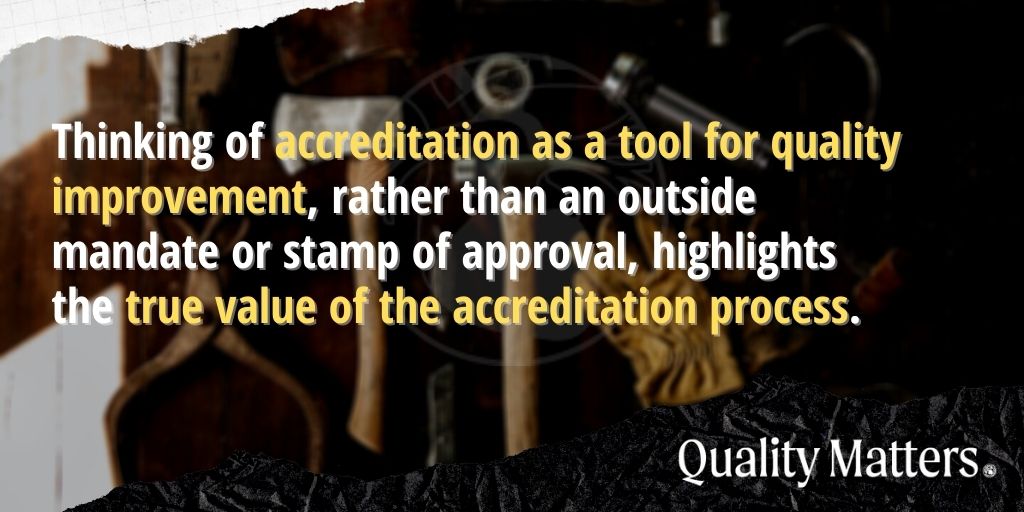 Creating a Learning Culture in your Organization
The National Academy of Medicine's Learning Health System Series highlights the many interconnected systems that go into creating a culture of learning and continuous improvement. Ideally, Learning Health Care Systems (LHCS) blend "science, informatics, incentives, and culture" in order to facilitate the continual collection of the most relevant data and application of data-driven insights to improve the delivery of care.
While this is an ongoing task grounded in the collection and analysis of data at its core, to understand quality improvement solely in terms of clinical data and quantitative information is too limited a perspective. As the term suggests, quality improvement requires us to examine the more inscrutable qualitative aspects of our organizations, including the emotional responses of staff to the work environment, organizational "politics" and information silos, staff "buy-in" to change-processes and quality improvement initiatives, etc.
In fact, the National Academies of Sciences, Engineering, and Medicine's 2018 Consensus Study Report, Crossing the Global Quality Chasm, notes that an LHCS's "most significant, core characteristics are not technical but cultural." This re-emphasizes the centrality of organizational leadership to any quality improvement initiative, as successful organizational culture transformations are often distilled from the top down throughout an organization.
In order to affect change in organizational processes, leaders need to actively seek feedback, participation, and input from staff about work processes and methods of improvement. Changes implemented without the full involvement of organizational stakeholders are less likely to succeed. Indeed, since frontline staff are the "end users" of organizational processes, not only is their perspective critical to consider because changes will impact them most directly, but also they may have a more detailed and nuanced understanding of the work accomplished within your institution.
Importantly, due to the frequently interpretive and subjective nature of qualitative markers, organizational cultural/process evaluation and adaptation is often best facilitated by a third-party. A supportive accreditation process allows leadership to eliminate their potential bias regarding organizational functioning, while simultaneously giving them the necessary information to prioritize areas for organizational change and improvement against the most up-to-date clinical guidelines, "best practices" observed across outside accredited organizations, and administrative supports from accreditation teams.
Put differently, accreditation is a tool, which organizations can use to hone their processes in pursuit of quality improvement. Thinking of accreditation as a tool for quality improvement, rather than an outside mandate or stamp of approval, highlights the true value of the accreditation process. Accreditation shines a light throughout your organization to highlight areas for improvement and organizational proficiencies, and acts as a resource for leadership and administration in their approach to organizational change.
So, accreditation can play a crucial role in preparing for the next pandemic.
Risk Management and Preparing for the Next Pandemic
Of course, preparing for the future requires us to thoroughly consider worst-case scenarios. This is especially true during a period where the global healthcare system is being bombarded daily by the hurdles of an ongoing pandemic.
Following the 2014 Dallas Ebola outbreak there was renewed vigor in the U.S. healthcare system regarding emergency preparedness. However, the "all-hazards" approach advocated by the Centers for Medicare and Medicaid Services (CMS) Emergency Preparedness Rule, which went into effect November of 2016, allowed for hospitals to implement emergency preparedness policies based on their own independent risk assessments.
Unfortunately, although hospitals were granted greater autonomy in the development of emergency preparedness policies, some hospitals prioritized emergency preparedness for hazards that ended up being less likely to occur in the long-run. In other words, the regulations stemming out of the Ebola outbreak in 2014 did not specifically require hospitals to account for emergencies involving pandemic flu or other events demanding a high degree of biopreparedness. And hospitals' competing interests in terms of emergency preparedness may have obfuscated the threat of an "improbable biological event."
Emergency preparedness advocates have seen their calls to action reinforced by the current Covid-19 pandemic, and some have gone so far as to suggest "tying [biopreparedness] requirements to accreditation and reimbursement." While this step remains to be taken, there is little doubt that mandates pertaining to biopreparedness are on the horizon.
This lays bare another primary benefit of supportive accreditation processes. Effective accreditations are designed to incorporate the best available information and data on an ongoing basis. In other words, accreditation requirements should change over time as we continue to develop new technologies, improve clinical proficiencies, and learn from global health events.
By removing the burden of research and policy/guideline updates from being a responsibility shouldered solely by healthcare delivering institutions, accreditation bodies provide many valuable resources for any quality improvement initiative. The fact that accreditations are external quality assessments is a key component of their value, because accrediting bodies coalesce information from across a far broader spectrum than an institution whose assessment and improvement efforts draw primarily on internal data.
As a vessel for information across the healthcare landscape, accrediting bodies have far more comprehensive information at their disposal, and as a result of this wider perspective they can act as a resource for institutions limited in perspective to their own experience.
This truth was recently born out in South Korea this past March, where "preparedness and rapid implementation of [External Quality Assessment] have supported the rapid expansion of COVID-19 testing capacity." The Korean Association of External Quality Assessment Service (KEQAS) was responsible for evaluating and certifying lab testing facilities and the validity of their testing results. In this way, KEQAS became a repository not only for accurate testing results, which are necessary for effective contact tracing, but also for the labs and organizations whose data were most reliable, acting as an interface between researchers, healthcare providers, and the public.
As information-sharing remains of utmost importance to healthcare providers during the Covid-19 pandemic and beyond, the unique value proposition of accreditation as a nexus point between care providers, clinical research, and the public will only become more prominent. Accrediting bodies will certainly have a role to play in preparing for the next pandemic. The relationships between healthcare providing institutions and accrediting bodies are likely to expand in scope in the years to come, and gaining access to the research and guidance accreditation provides should be high on the list of priorities for healthcare administrators and leaders going forward.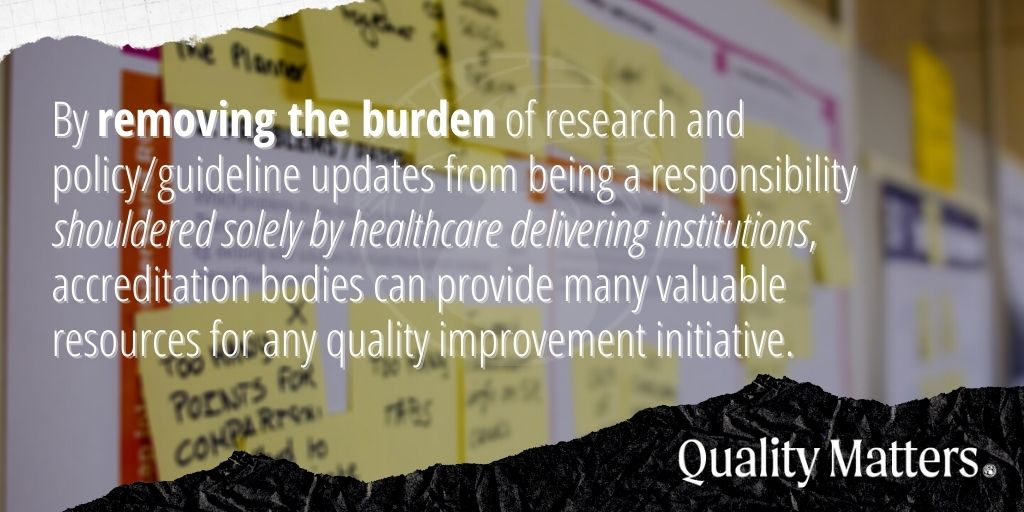 Accreditation Attitudes; Using Accreditation as a Management Tool
Whether accreditation is mandatory or voluntary, it should be viewed as a tool to shape the future of an organization more than an affirmation of institutional quality at a given moment in time. Some studies have even found that accreditation "creates organizational foundations for future Quality Improvement initiatives." [Emphasis added]
The work that goes into an accreditation process is inherently focused on future performance, which necessarily includes potential obstacles and crises impacting care. Even when accreditation is mandatory, which is sometimes viewed as burdensome and costly by organizational leadership, the benefits of accreditation for "standardizing processes, improving patient safety, and clarifying responsibility in the organization" are still widely acknowledged.
The benefits of operationalizing accreditation as a way to create organizational foundations – of organizational culture, for quality improvement efforts, and for external/public reputation – cannot be overstated. In addition to the assurances accreditations provide regarding current quality efforts, the real power of accreditation is that it helps clear a path forward for organizations, and provides the necessary resources for organizations to make their way into the future without sacrificing the quality hurdles inherent in pursuing change.
Further reading from Quality Matters: