Due to standard lags in data reporting and analysis, healthcare has yet to fully reckon with how COVID-19 and related labor shortages are impacting the quality of care. But early indications suggest a common focus for how to improve cardiology quality in 2022—respect staff.
After years of consistent decreases, healthcare-associated infections increased in 2020, with researchers attributing the results to staffing shortages and high patient volumes limiting hospitals' ability to follow standard infection control practices.
"That's probably one of the first real pieces of data — from a large scale dataset — that we've seen that gives us some sense of direction of where we've been headed with the impact of patient outcomes as a result of the pandemic," Patricia McGaffigan, RN, vice president of safety programs for the Institute for Healthcare Improvement, told Becker's Hospital Review.
Anecdotally, Accreditation for Cardiovascular Excellence is also seeing negative impacts of the "perfect storm" of staffing shortages and high patient volume at a diverse range of sites—with providers' struggling to meet rigorous standards of care and quality improvement while also navigating this lengthy crisis.
"[Hospitals] ability to monitor, analyze and interpret [quality] data largely depends on the resources available," said Ms. McGaffigan to Becker's—especially human resources. "The pandemic may have sidelined some of that work for hospitals, as clinical or safety leaders had to shift their priorities and day-to-day activities," reads the article.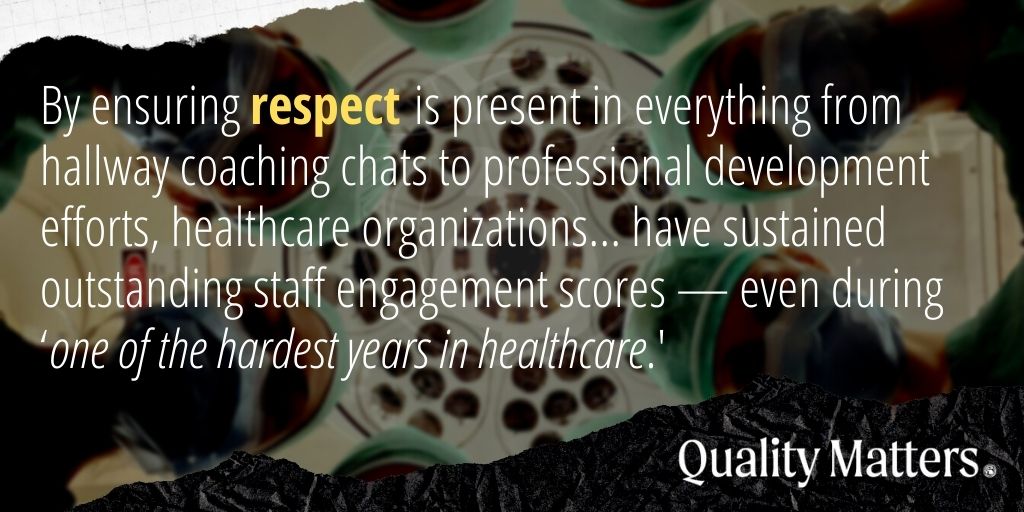 The upshot on how to improve cardiology quality in 2022
The upshot, at least in the short-term, is that hospitals' immediate staffing crisis should also be the priority for quality-focused organizations—it's never been more important to support and respect staff needs, and we're seeing that reflected in practice.
"Many institutions are stepping up and providing deep support beyond what we saw in the early days of the COVID-19 pandemic," said April N. Kapu, DNP, APRN, ACNP-BC, FAANP, FCCN, FAAN, President of the American Association of Nurse Practitioners (AANP) to CardiologyAdvisor.
"These healthier organizations have policies in place on how many days and hours can be worked in a row, vacation days, and employee assistance programs for counseling and support services," reads the article. "According to Dr Kapu, these institutions are 'where we are seeing better retention and engaged employees.'"
Building a healthier organization for staff comes down to respect, according to a recent whitepaper from Virginia Mason Institute. "A culture of respect, which includes opportunities for staff to learn new skills and improve their own work processes, fortifies workers against the feelings of exhaustion, weariness and disempowerment that are so common in healthcare," reads the executive summary. "By ensuring respect is present in everything from hallway coaching chats to professional development efforts, healthcare organizations… have sustained outstanding staff engagement scores — even during 'one of the hardest years in healthcare.'"
So, if you're looking for how to improve cardiology quality in 2022, building and ensuring a culture of respect should be at the top of your priorities.
If you're looking for more structured support, consider supportive third-party support and quality improvement initiatives that respect and include clinicians and co-design processes that work for them, like the elective, procedure- and quality-focused accreditation offered by Accreditation for Cardiovascular Excellence.